Hinged closures are designed for use where you require frequent access into pressure vessels and lines. They are easy to install and require very little maintenance. Replacement parts are readily available.
Hinged closures are manufactured to meet the requirements of the ASME cod for boiler and pressure vessels, Section I and Section VIII, Division I. Unites in stock are made from carbon steel. Stainless Steel closures are available on special order. They can be supplied with carbon steel or stainless steel externals. Please call for prices.
Los Angeles Boiler Works Inc. stocks hinged closures from 6" to 24" pipe diameters. These closures are available for up to 300 psi service. All closures utilize a standard Buna N, "o" ring seal set in a machined groove in the head. The head and neck of the closures are machined to a matching bevel to ensure full contact between mating surfaces. Gaskets of other material can be furnished for an additional charge.
These hinged closures cannot be opened under pressure. The angle at which the lugs are welded to the neck and head requires the nuts to be turned several turns before they clear the lugs. This safety feature allows any residual pressure to bleed off before opening.
ASME code stamping and partial data reports are furnished.
MATERIAL SPECIFICATIONS
Carbon Steel
Head - 2:1 Semi-Elliptical - SA-516 Grade 70 PVQ
Neck - SA-106-B SMLS Pipe
Studs - A-193 B7
Pins - 1018-CR or Better
Lugs - A-36 or Better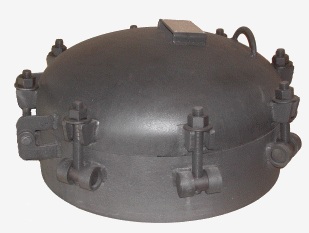 Pipe
Size
300 PSI
A
B
C
D
E
H
T
X
Y
Wt.
Part
Number
6
6 5/8
10 5/8
2 1/2
6
3
8 1/2
7/16
60
120
3
CN1963-3A
8
8 5/8
12 5/8
3
6
3
9
1/2
60
120
3
CN1963-3B
10
10 3/4
14 3/4
3 1/2
6
3
9 1/2
1/2
45
90
4
CN1963-3C
12
12 3/4
16 3/4
4
6
3
10
1/2
45
90
4
CN1963-3D
14
14
18
4 1/4
6
3
10 1/4
1/2
0
60
6
CN1963-3E
16
16
20
4 3/4
6
3
10 3/4
1/2
0
45
8
CN1963-3F
18
18
22
5 1/4
6
3
11 1/4
1/2
0
45
8
CN1963-3G
20
20
24
5 3/4
6
3
11 3/4
1/2
0
45
8
CN1963-3H
24
24
28
6 3/4
6
3
12 3/4
1/2
0
36
10
CN1963-3J